WillPS

wrote:

↑

Thu 12 Apr, 2018 14.12

Pete

wrote:

↑

Wed 11 Apr, 2018 20.31

what's this now?

I should have taken a picture - there is a stack of plastic table marker on either side of each screen. Each marker had a number in the 3xx range. When you select 'Eat In', rather than being asked to set a 'Zone' you're instructed to take table marker and type in the number. I believe this number then becomes your order number, but I didn't Eat In so I don't know for sure. The takeaway orders were still in the 0xx range and sequential from what I could gather though.

When your food is delivered, the staff member lakes your table marker and puts it back next to one of the screens.

I saw this in Grantham last weekend, I don't know if it's standard or some sort of trial.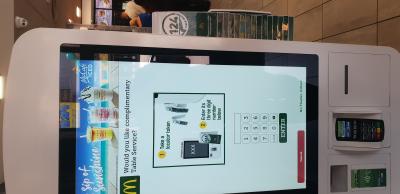 Found in a high street branch in Blackpool. Sat upstairs deliberately somewhat out of easy view and they found us pretty quickly.