rdobbie wrote:

James L H wrote:Whilst having a browse of said Tesco on Streetview, I was rather suprised to find that some of the images which are online were actually took whilst the store was in use.

Some interesting images there.

I've never seen a closed down Tesco petrol station before (

Streetview

). Since it's on the main road and not inside the retail park, I'm surprised they didn't keep it going and extend the shop into a Tesco Express format, considering the way Tesco usually snap up bits of land like that.
Let me explain.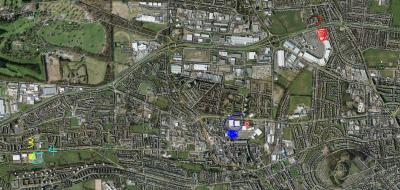 If you look at the above map. The Tesco we're discussing, Tesco Lochee [Blue, 1] is very close (0.9 miles to be exac) to a very large Extra, Tesco Kingsway [Red, 2]. There was also another superstore at South Road [Yellow - 3] which was inside a former B&Q.
Tesco then decided to demolish South Road and build a massive Extra on South Road [Turquoise, 4] with a ground floor car park and travelators. Given the two massive extras so close to one another (the third Extra being on the waterfront two miles away) said Tesco was surplus to requirements / a potential planning problem hence it being disposed of.
Naturally Kingsway also has a petrol station.
Course this was years ago. Since then Tesco have opened three, yes three, Tesco expresses all within the city centre and all surrounding a big Tesco Metro and a mile down the road from the previously mentioned Riverside Extra. The below map shows all the Tescos we currently have.