rdobbie

wrote:

↑

Sat 10 Aug, 2019 06.05

On a related note, my local Lidl recently had a minor refit (it only opened 4 years ago) and I was surprised to see a German shopfitting company doing the work, with several German-registered Transit vans in the car park. I wonder why Lidl found that cost-effective, compared to using British shopfitters? I'd have thought the cost of cross-channel transport for the vehicles, and accommodation for the workers, would be quite high.
The Starbucks inside the old Borders in Dundee had a sheet of plywood at the end of the bar instead of the round bit of wood where they put your finished drink. This was because said bit of wood had not arrived. From Seattle. Because a round bit of wood is beyond the wit of local shopfitting companies clearly. Suspect it was part of an elaborate tax dodge.
My local Lidl also had a mini refit, which must have happened overnight because I don't remember it closing at any point. It's not a purpose built branch, instead being a converted Kwik Save with an extension on the front. So no paved carpark, just tarmac, and no "Middle of Lidl" asile of shite, just food.
As well as general repaints they did some rather clever things to increase the space substantially without actually increasing the footprint.
First, they removed four belted checkouts and replaced the two closest to the wall with a bank of eight self scans (never seen these before in Lidl) and have added a new exit only door right after the self scan.
If you'll observe by beautiful rendering you shall see why this is clever...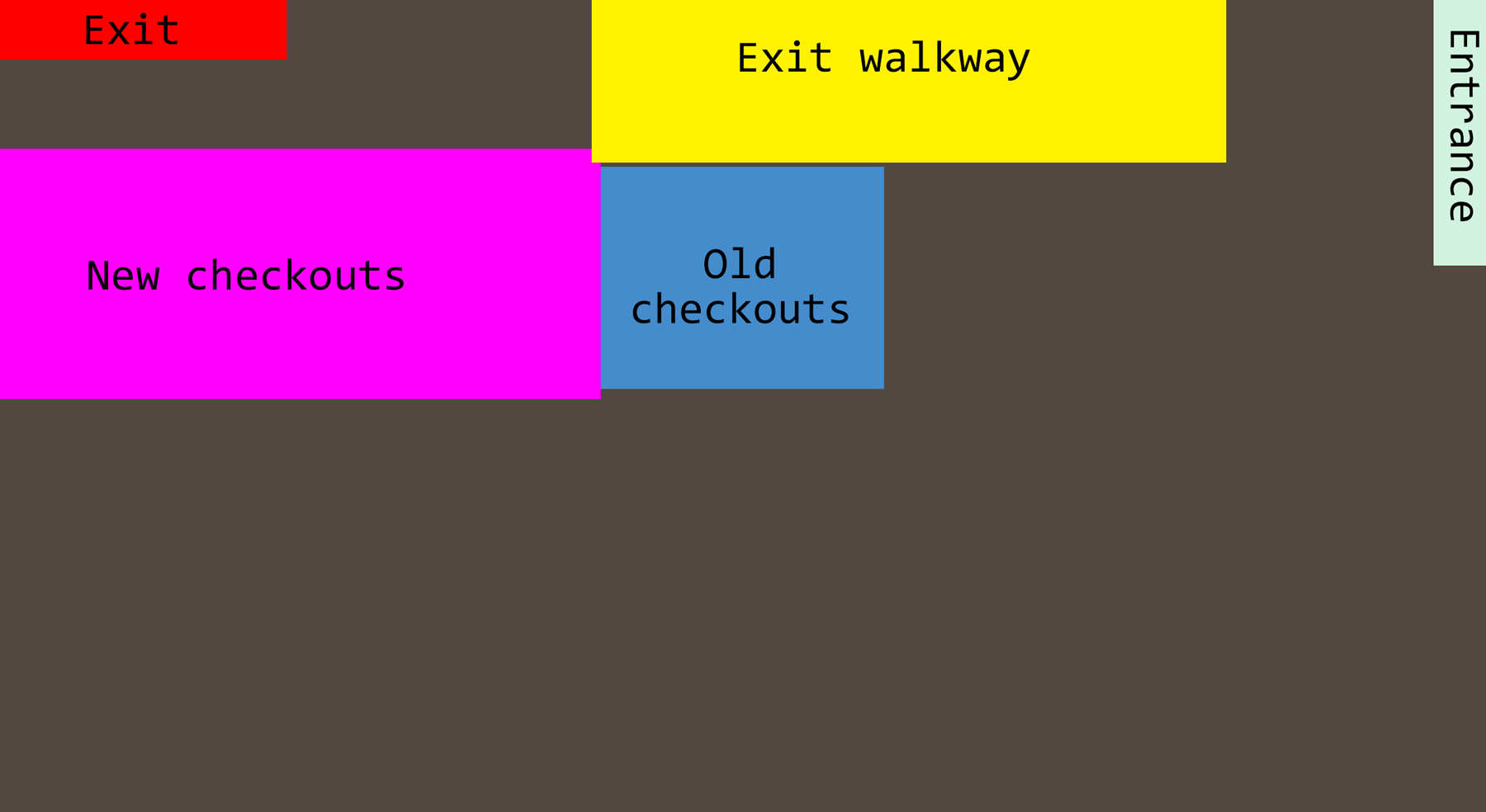 Not only have they gained the space from removing extra checkouts (blue) but because you now leave directly after them, they no longer need the exit walkway to return to the doors. In addition they've also changed from chest only freezers to the ones with cabinets on top.
It may seem small but it's an impressive amount of extra space in a reasonably small store, plus given its a student area with a higher number of customers but with small basket sizes self scan makes a lot of sense.
That said, because it's so efficient you're already out the door before you remember to scan your receipt to do the car park thing and then have to sneak back in.